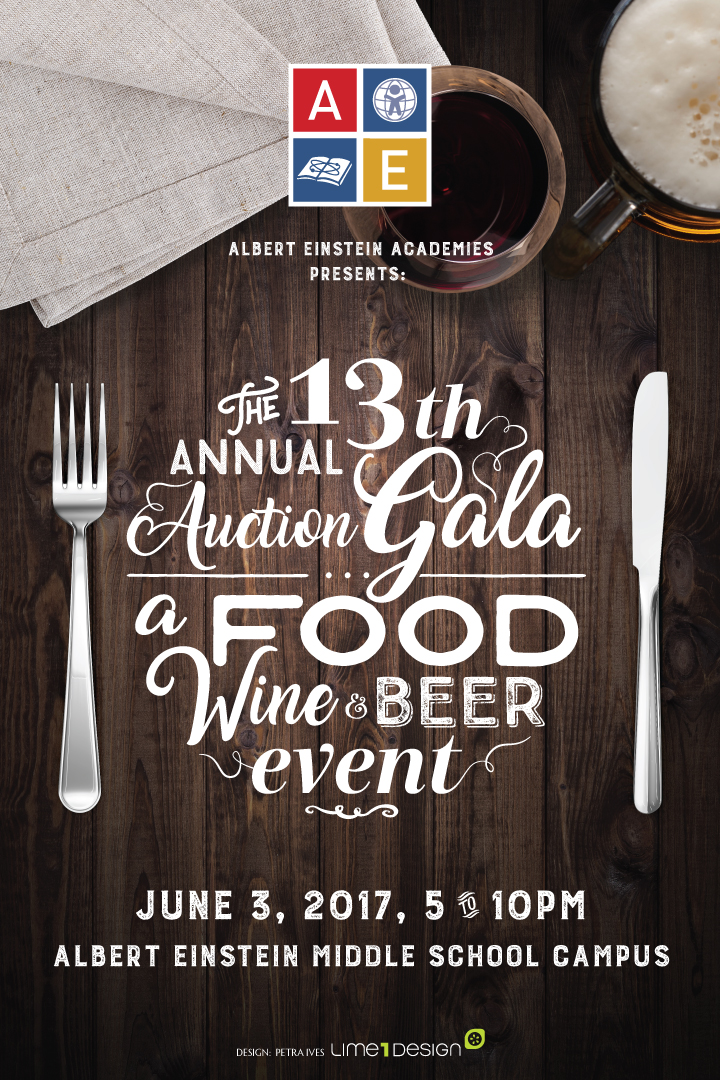 The annual Auction Gala is the largest fundraiser of the year for Albert Einstein Academies. Each year, more than 50% of our budget comes from the auction gala. The 2017 Gala's fundraising goal is $100,000 to provide the arts, physical education, science, field trips and academic support that make AEA such a special place.  Without these funds many of the "extras" that make up our children's school experience would be removed due to lack of funding!
The Auction Gala is an amazing invitation to support your school - enjoy delicious food, an open bar, dancing, and mingling with members of the AEA community including other parents and teachers. The event kicks off with a silent auction where you can bid on many different items donated by the community as well as art created by the students. The live auction includes teacher outings and other larger donated items, vacations, and services.  There is something for everyone from gift cards to your favorite local restaurants to houses in Greece!
You can participate in this event by, attending the event and participating in the auction, making a donation of goods or services to be auctioned at the gala, or becoming a sponsor to help cover the costs of this event.  We are also tax deductible!
Donations
If you are willing to make a donation of goods or services or would like to become a sponsor, please complete the form(s) below and return them with your donation by May 1, 2017 to Friends of Albert Einstein Academies, 3035 Ash St., San Diego, CA. 92102 or email us at gala2017@foaea.org. We can also arrange to pick up your donation.
Friends of AEA is a 501(c)(3) nonprofit organization (Tax ID #26-1187327) allowing for contributions to be tax-deductible as a charitable donation. Friends of AEA's 501(c)(3) status can be found here.
Thank you for your generosity.
Sponsoring the Gala
Volunteering for the Gala
If you would like to support or help plan the largest fundraiser for Friends of AEA please email one of the co-chairs or sign up here. This event raises over 50% of the funds needed to provide the art, music and other enrichment programs. You can give as little or as much time as you like - we still need volunteers to help sell tickets before/after school, procure auction items, and setup/cleanup on the day of the event!
Questions?
If you have any questions, you may find your answer(s) in our Frequently Asked Questions document by clicking here.
More questions? Please bookmark this page and check back often as we will be updating this page with more details as we get closer to the event. You can also email the Auction Committee Chairs by clicking here.
Thank you again for your generosity and we look forward to seeing you at the Gala!
2017 Auction Gala Chairs: Amy Brandl, Brant Robinson, Staci Gingery, Jennifer Coleman